The Bluekatts beat the Lady Bulldogs 43-26 to force another game between the two to see who goes to the playoffs. Coleman will play Hamilton again on Friday night, February 14th, in Gorman at 6:30pm for the 4th place spot in District 6-AAA. KOXE.com will be streaming the game live.
On Tuesday night, Hamilton broke the 0-0 barrier first, scoring 2 points after almost a full minute of play. Abbi Allen blocked a shot after a couple more minutes, getting the ball back on the Katts end of the floor. Aislyn Cox was fouled and made the first point (pictured below) for Coleman. With 4:08 left in the first quarter it was still 1-2, Hamilton ahead. Ginny Arnold (also pictured below) was fouled while shooting a 3 and made 2 free throws. Hamilton then hit for two and the score was 3-4 with 2:46 left in the 1st quarter. It wasn't looking like a high-scoring game was in store for the night. But, Kelly Hale made a field goal and G. Arnold made a 3 to end the first quarter ahead 8-6.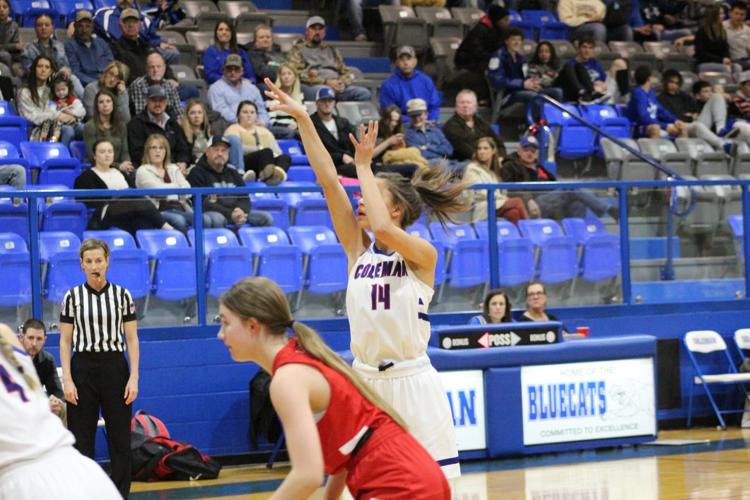 In the first four minutes of the 2nd quarter, the Bluekatts blocked shots, got several steals and were fouled. They weren't able to fully capitalize on those events, only scoring 3 points halfway through the quarter, making it 11-6. The Bluekatts got busy after a timeout called by Coach Barrett and went into halftime ahead 19-10.
Allen's block with about 5 minutes left in 3rd quarter (pictured below) allowed a fast break, getting the ball up the floor to Tessa Arnold (also pictured below), who made her short jumper and got a free throw, which she swished. The 3rd quarter has sometimes been an Achilles heal for the Katts, but they hung with Hamilton and were still ahead after three quarters 31-23.  Hamilton had beat Coleman in their last meeting 48-42. They seemed a little surprised at how much the Bluekatts had improved over the last few games.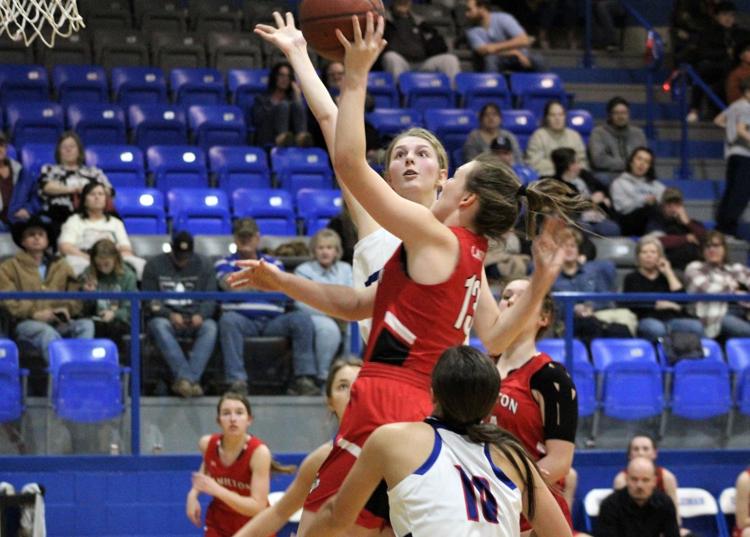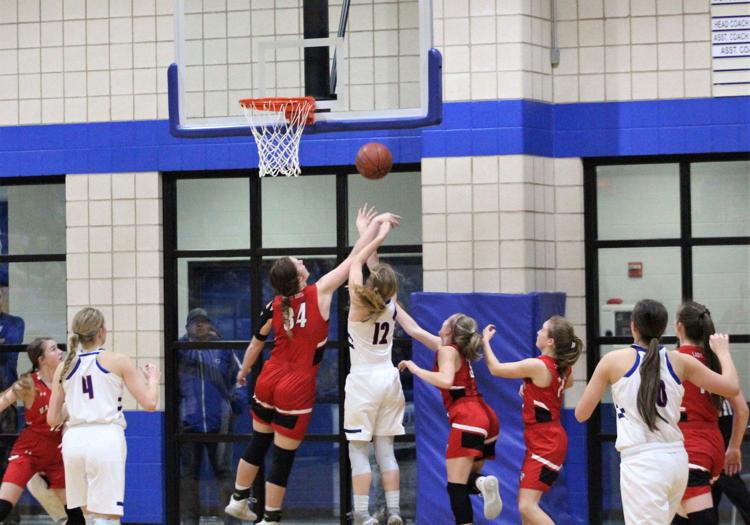 The 4th quarter sealed the deal for the Bluekatts Tuesday as they outscored the Lady Bulldogs 12-3. Hamilton didn't score a single field goal, just made three free throws. The Bluekatts found Allen looking for the ball the entire second half; Allen made 8 field goals and a free throw, scoring 17 of her total 23 points on the night in the second half. Ginny Arnold was also key in the win, with 11 points, 9 rebounds, 3 steals, and 2 assists.  Coach Meg Barrett has the defense going hard and they are fun to watch, having 16 steals and 8 shot blocks against Hamilton. The Bluekatts win, 43-26, brought some smiling faces on the floor, as pictured below. Also below is scoring and stats for Varsity and scoring for JV, who won 44-12. There will be PHOTO ALBUMS of both games posted separately.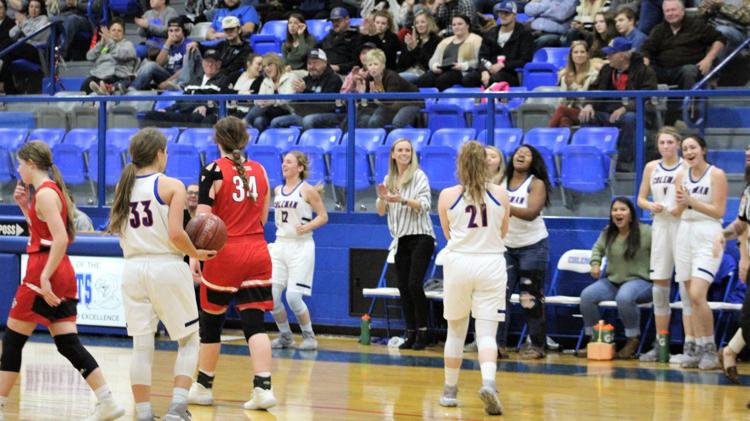 Coleman 43 - Hamilton 26
Abbi Allen - 23 points, 16 rebounds, 8 blocks, 1 steal
Ginny Arnold - 11 points, 9 rebounds, 3 steals, 2 assists
Tessa Arnold - 4 points - 3 rebounds - 7 steals, 4 assists
Brittany Olinger - 2 points - 1 rebound - 3 steals - 2 assists
Kelly Hale - 2 points - 7 rebounds - 2 assists
Aislyn Cox - 1 point - 1 rebound - 1 steal - 1 assist
Jolie Monroe - 1 steal - 3 assists
JV Bluekatts 44 - Hamilton 12
Brylei Gilbreath - 10
Payton Garrett - 6
Peyton Gober - 11
Brooklyn Gilbreath - 2
Adley Johnson - 6
Selena Rincon - 3
R. Robinson - 3
Analis Flores - 3