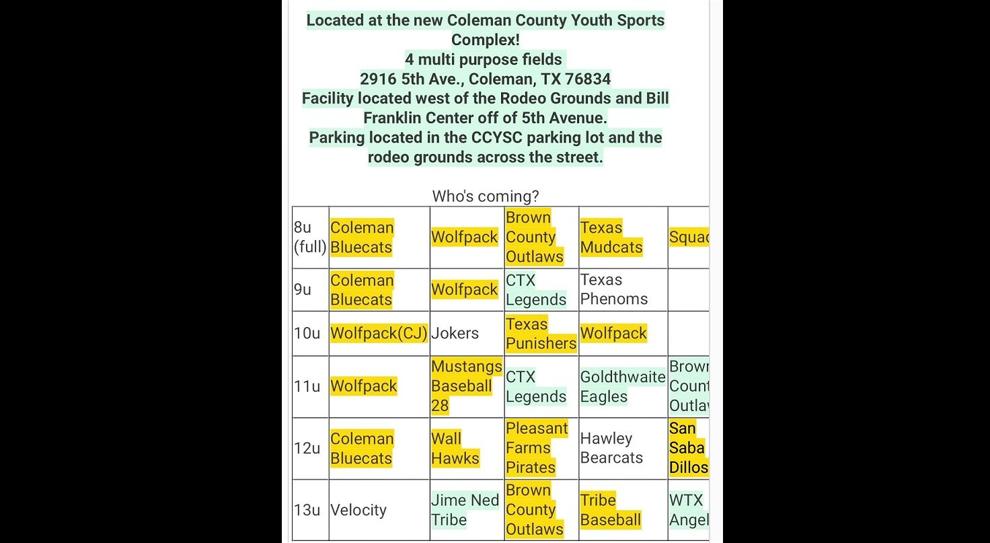 This weekend another BIG baseball tournament will be held at the Coleman County Youth Sports Complex.  Thirty teams have entered, so there will be plenty of games to see Saturday and Sunday.  The photo to the right has the teams that have entered, and you can see they are from all around the area.  Pictured above are two sponsor signs that were added today on the baseball backstops.  'Thank you' goes to Pioneer (General Leathercraft), the Hadden family, and to Cattle Drive Café, Vicki Arthur and Todd Virden, for your contribution to help get the Sports Complex completed!  
The Sports Complex board would like to remind everyone that the fundraising isn't quite complete.  They have had a good response to the recent article, but still need help with the final funding.  Click on the link in the paragraph below to see how and where you can donate to the Sports Complex fund:  
---
With the work of the Coleman County Youth Sports Complex board and many community members, the fields were opened for games in April.  It's a beautiful sight to see, and if you haven't checked it out - do so!  Through the link below is a letter from the CCYSC Board... consider that maybe your kids or grandkids will use the facilities some day and LET'S FINISH THIS !!! 
NOTE  -  The Coleman County Youth Sports Complex organization is a 501c3 corporation.   CLICK HERE FOR INFORMATION ON HOW AND WHERE TO DONATE!