The last program, "Texas Camel Corps" for the 2021 Summer Reading Program "Tales & Tales," was held at the City Park Thursday, July 8th.  
Did you know?
There are two types of camels: One humped and two humped.
The humps allow the camels to store up to 80 pounds of fat which they can live off for months.
A camel can drink up to 40 gallons of water in one go.
Camels can carry up to 900 hundred pounds for 25 miles a day.
Camels can travel 40 miles an hour - same as a race horse.
Don't make a camel mad!!  Mr. Doug Baum, Texas Camel Corps, told the crowd it has always been said a camel will spit on you if you make it mad.  Well that's not true, Mr. Doug informed the crowd camels do not spit!  But they will puke on you.  So don't make a camel mad!  I heard a comment "Eew, I'd rather they spit." 
In 1856, 34 camels arrived via boat at the port in Indianola, Texas.  The camels came to be a part of an experiment with the United States Army called "The United States Camel Corps."  The idea was to use the camels as pack animals in the southwestern portions of the United States.  The camels were settled at Camp Verde (in Kerr County).  The U.S. Army had success using the camels in extended surveys in the rough terrain of the Southwest.  However, the camels did not get along with the Army's horses and mules, which would bolt out of fear when they smelled a camel.  The soldiers found the camels difficult to handle and couldn't stand the smell of them.  (Read more below...)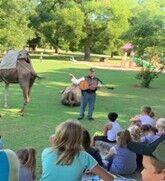 This and much more was learned from Mr. Doug.  After a question and answer time the children were allowed a photo shoot with the camels. 
As children arrived they picked up their reading certificates and enjoyed slices of watermelon provided by the Friends of the Library.  Each child received one free swim pass from the City of Coleman, one free fountain drink from Owl Drug Store, one free one-topping personal pan pizza from Coleman Pizza Hut, one free drink from Best Fried Chicken, $2.00 off tea or shake from Sonflower Nutrition, one free cookie from Cactus Coffee Co. and a free ice cream cone from Sonic Drive In.  
Librarian Sue Dossey gave a short program to the group attending.  129 children registered and 71 completed their reading requirements.  This year the library partnered with the Coleman ISD ACE Program and brought some entertaining and fun programs each week for children and students to enjoy.  Registration day, June 2nd, kicked off with "May Farms Petting Zoo" and "Move Your Tale", an Improv group from Austin, Texas.  
Additional programs included the Rodeo Association.  2021 Rodeo Queen Addi Webb, Coleman Rodeo President Patrick Justice, Announcer T. C. Long, and Barrel clown John Harrison gave a great program and all attending received a free Rodeo ticket.  (Read more below...)
Arts & Craft Day, Stuffed Animal Storytime with local author Michelle Kaiser reading her new kids book, "Special Ed and the Bull-ies".  Those attending that didn't bring their own stuffed animal were presented one by the Friends of the Library.  
"Wild Things Zoofari", "Abilene Zoo", "Planetarium", "Animal Astronauts", Virtual program "Didgeridoo Down Under" and Magician "John O'Bryant", was provided with a grant from Coleman County Foundation.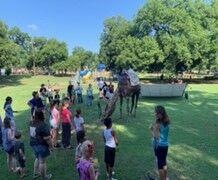 An average of 89 children attended each program.  Friends of the Library President Dixie Bible hosted the Toddler/Pre-K/Kindergarten program each week and an average of 8 children attended each program.  After the short program names were drawn for prizes.  Prizes included educational STEM projects for the children to work on at home.  Prizes were made available with donations from the following Coleman business:  Cooper Supply, Bonneville, Coleman Grain, Live Oak Real Estate, Coleman County Telephone, Cooperative, Coleman County State Bank, Grammars, Coleman Interbank, Davis Feed & Seed, Coleman Veterinary Clinic, Williams Tire Store, Best Fried Chicken, Rancho Centro, Coleman County Farm Bureau and Shoppin' Baskit.   
The library is excited to announce next year's Summer Reading Program; "Ocean of Possibilities."  
Those completing the reading program:
Abigail Cody, Abigail Vanpelt, Adora Villamizar, Armonie Eldred, Avery Vanpelt, Axel Golson, Braylee Golson, Brazos Moxley, Brooklyn Anderson, Brooklyne Christopherson, Carson Estes, Cassidy Crosser, Chloe Pope, Codie Perkins, David Villamizar, Declan Crosser, Dez Hollaway, Eilean Benitez, Eli Walters, Elektra Tucker, Emersyn Henson, Emilie Lawhon, Enrique Mata, Evangeline Benitez, Eve Balladarez, Gwen Diaz, Hayden Van Pelt, Hilton Mendoza, Hunter Huggins, Ian Margan, Esa Cunningham, Isaiah Cody, Joann Carter, Jordan Brown, Josephine Cunningham, Joshua Cody, Joshua Morgan, Joshua Quinonez, Julian Vasquez, Kaitlyn Johnson, Kayleigh Musicanes, Kyson Johnson, Lance Vaughan, Landrie Jones, Leah Dee Salazar, Lila Kirkpatrick, Madi Brown, Makayla Walters, Niya Payne, Noah Payne, Noah Reeves, Octavia Johnson, Otis Wagner, Owen Robinson, Parker Slate, Quinn Slate, Reagan Casey, Rebekah Jones, Riley Newton, Sanibel Huggins, Steehl Bolton, Sutton McMahon, Taylin Golson, Theresa Benitez, Trig Golson, Urijah Diaz, Xenia Mata, Yisel Garcia, Zachariah Cody.